Jim James and Grilled Cheese.
I sit this evening, soaking in the end to a truly gorgeous day.
I'm near the first open window of the season, with the soft breeze of the night air sailing through.
"It hasn't been 82 degrees since September 12th," my friend Sarah noted to me during our walk this afternoon.
"8 months." She makes me hear it.
I talk all the time about loving all kinds of weather.. And I do!
But there's really something about a long winter, and the first taste of Summer.
We walked to our rented urban garden space near my house..
I rented two plots this year(my first year).. One 4×4, and one 4×8.
I am exited to start! (pictures, and writings to follow)
JIM JAMES
Almost two weeks ago, my brother and I attended a Jim James show.
He was not that interested in going, but the other guests I had invited couldn't make it for some reason or another.
So I basically forced him to go with me.
Someone else wrote a review of this show.
I will let you read that first…
And then I will tell you what really happened.
REAL REVIEW.
The doors opened at 7:30, and it was a general admission show..
But because I was in a fit of rage driving from one side of town to another to pick up Juan(the reluctant concert-goer), we didn't make it there until 8:15.
No worries.. There were still seats available on the first floor.
We settled in, and chatted before the opener came on..
Cold Specks.
She was wearing a cloak. Okay? She was wearing a cloak.

There were some things I could get into.. But mostly..
It was the same sad song, with minor chords, and a lilting defeated wail.
For her finale, she awkwardly stepped out from behind the mic and tried to belt it to the crowd.
People were receptive, but Juan and I tried to shrink down into our seats.
I had seen Glen Hansard do the same thing only months ago, and his booming voice resonated through that theater with such passion that it literally brought a tear to my eye.
This.. Was too small, yet, and too contrived to be the profound statement she wanted to make.
It missed the mark on me, anyway.
During her performance, the empty seats next to us filled with a good looking couple who brought beers to the people behind them.
A token of gratitude for watching their seats.
At one point, I squirmed a bit, and kicked the guy's foot. (a teeeeny tiny bit)
"Are you okay?" he asked me earnestly.
I laughed, "Yeah."
I went back to watching Cold Specks..
Who he was THOROUGHLY enjoying.
When they were done playing, he turned to me and said, "That was INTENSE."
I laughed again..
Because that's what I do when I am uncomfortable, and also plotting a discussion about your dumbness.
I turned to talk to Juan about how awful that just was..
When the gentleman said to me,…
"So, when are you due?"
Bewildered, I turned to Juan again, "No he did NOT just ask me when I was due."
The poor guy looked humiliated, honestly.
He mumbled something about that being "the dumbest question ever," and off he went to go smoke with his girlfriend.
He apologized on his way past..
My first thought, and is still my thought, was that this was a step up for me.
That I no longer just appear morbidly obese, but now just possibly with child.
And doesn't everybody love a pregnant girl?
Also, he assumed I was getting laid.
Isn't that nice?
"Won't it be funny when he comes back with a beer for you to make up for it?" Juan asked. And then, "Do you want to go sit on the third floor?"
Yes, and yes.
We ended up on the second floor, where I got seated next to another kind of dillhole.
When Jim came out, things were promising.
His second song was "Know Til Know," where the bass was heavy, and the lights were thumping with it.

His voice really is mesmerizing.
It floats melodically into the air, perfectly pitched..
Juan and I started to realize, as the minutes passed, that people were becoming exponentially more intoxicated.
The doofus to my right kept swatting at me saying, "He's an angel! I'd do him in the butt!"
And a group of friends in front of us milled about and scolded each other for not watching the show.
One of the sinewy women with them danced in a serpentine way, occasionally spilling her plastic cup of red wine.
And then it happened.
Jim left the stage, and returned with a sax.
The crowd went wild..
And he proceeded to fake play the saxophone.
My brother, musician that he is, was aghast.
"Is he playing that?"
He looked to my face, and back at the stage, and to my face again.
"His fingers aren't moving."
Juan's tone became increasingly more alarmed.
"He's not playing that saxophone."
There was a general panic.
"Is he faking playing that goddamned saxophone?"
Shrill. Angry.
The phone came out.
Things were googled.
He flashed the screen at me with a comment on an internet forum..
"I thought he wasn't playing it at first.." the guy was writing.
I watched Juan shut down emotionally.
I watched Jim skate back and forth across the stage.
I watched the crowd, which was a mix of Phish heads, baby boomers, and frat boys, eat it up.
And I started to wait for the end.
"But the embellishments made what were already meticulously crafted profundities all the richer." Go fuck yourself, Piet Levy.
Then I realized that I am an adult that can drive away from places and asked if Juan wanted to go.
So we did.
….UPDATE.
I just heard this song on the radio today, and I was all.. YEAH. My Morning Jacket! C'mon, people!
And then I came home to insert it into this here post, and listening to it again, I *COMPLETELY* UNDERSTAND THE PHISH/GRATEFUL DEAD CROSSOVER.
I didn't get it before, but now it makes ALL of the sense.

……
GRILLED CHEESE.
My cheesemonger friend Mary visited from Arizona this past weekend.
What a delightful creature that one is.
She joined me at my home for breakfast before driving out to Mineral Point, WI for this.
A grilled cheese sandwich making competition.
I have been excited about attending this particular event for months.
I'm not saying it was a disappointment, because it was not that.
I had a really good time with the company.
Jessica and Paige.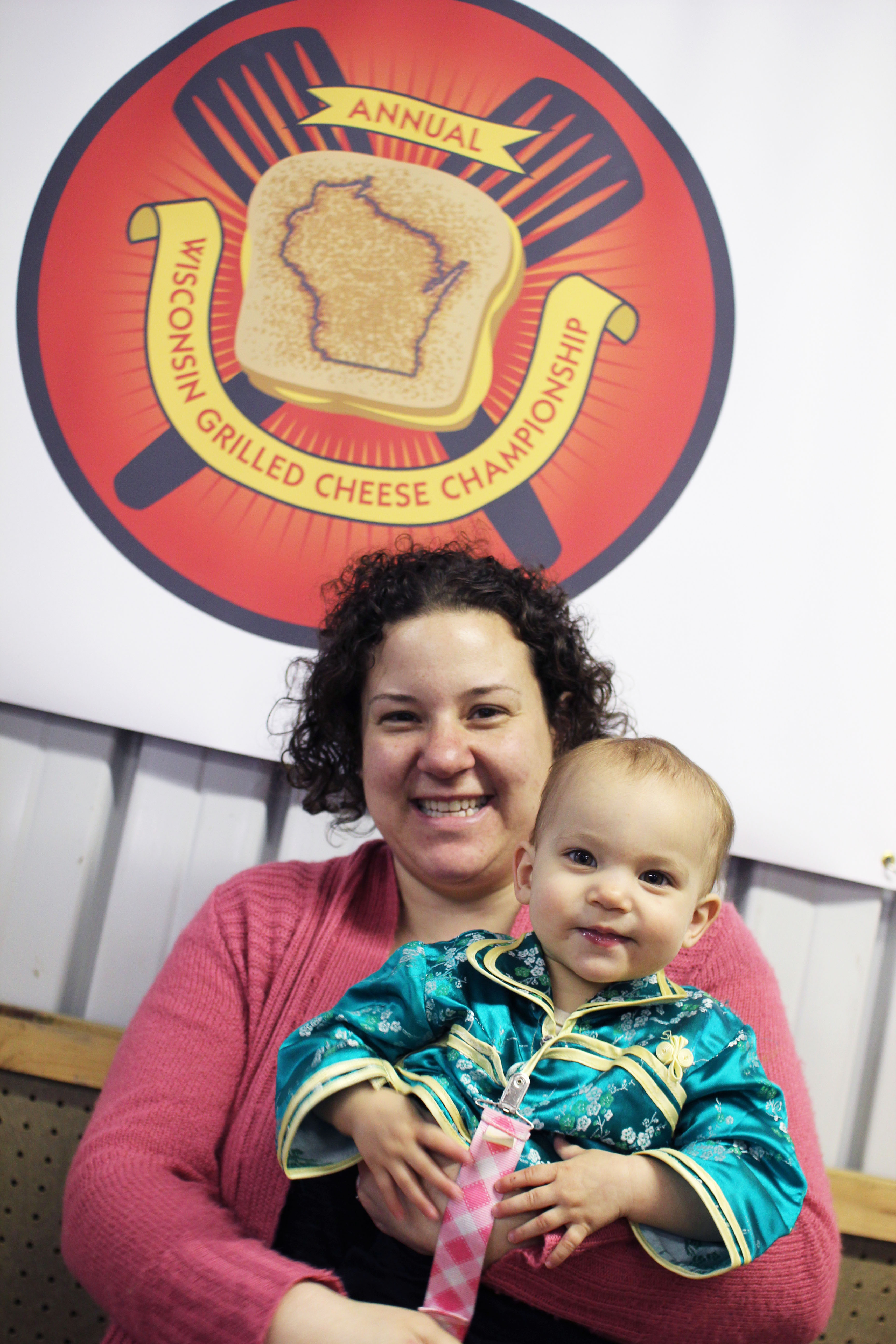 Me and Paige. (same page, different frame)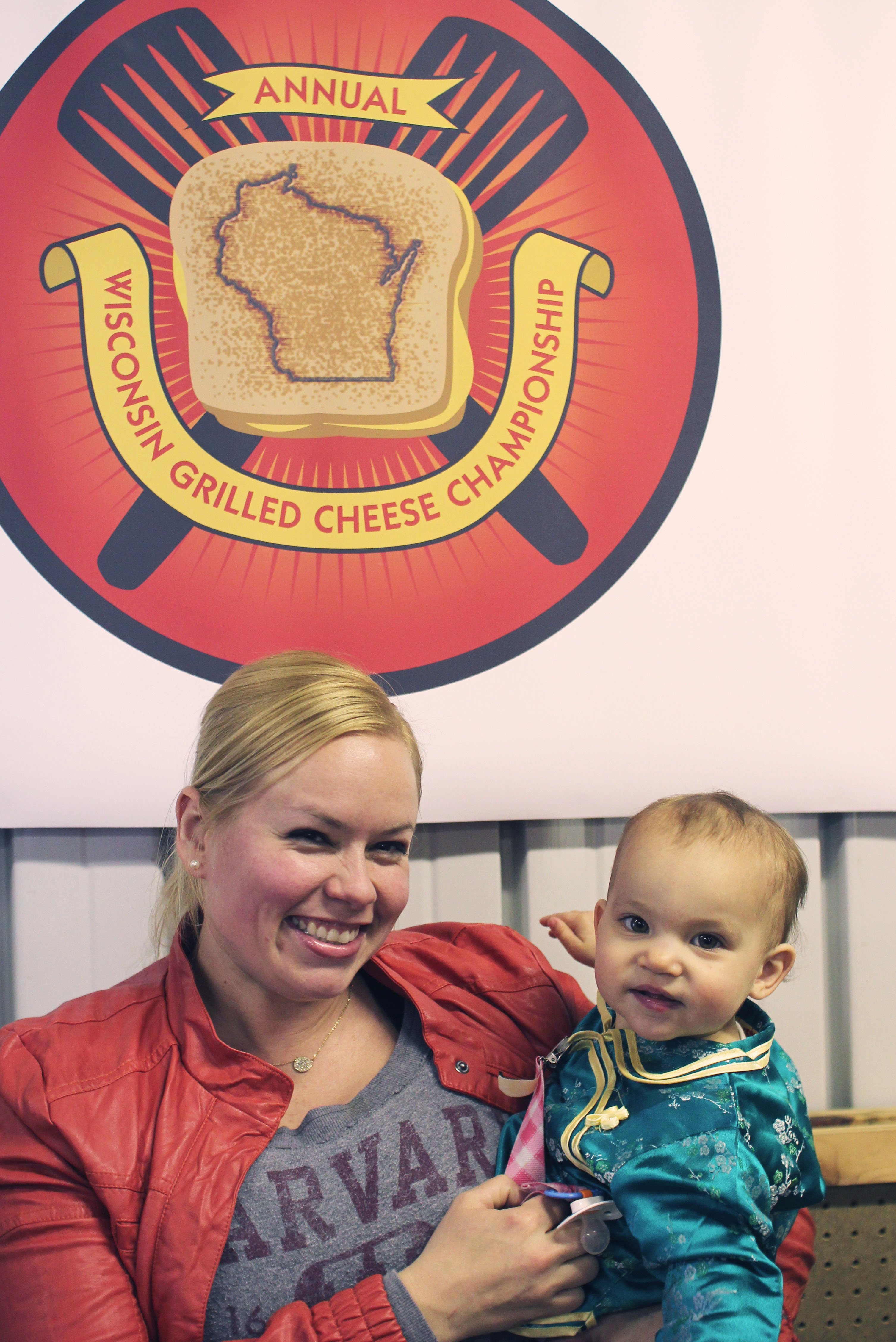 And of course, Mary.
(artistic rendering.)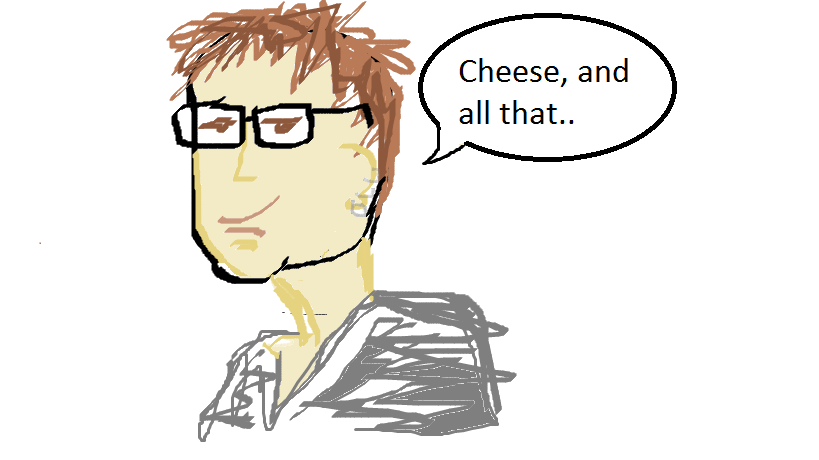 Paige found a pretty major band..
Whiskey River had a man who played the spoons, and another who played the saw.
Something I just decided that I would like to learn.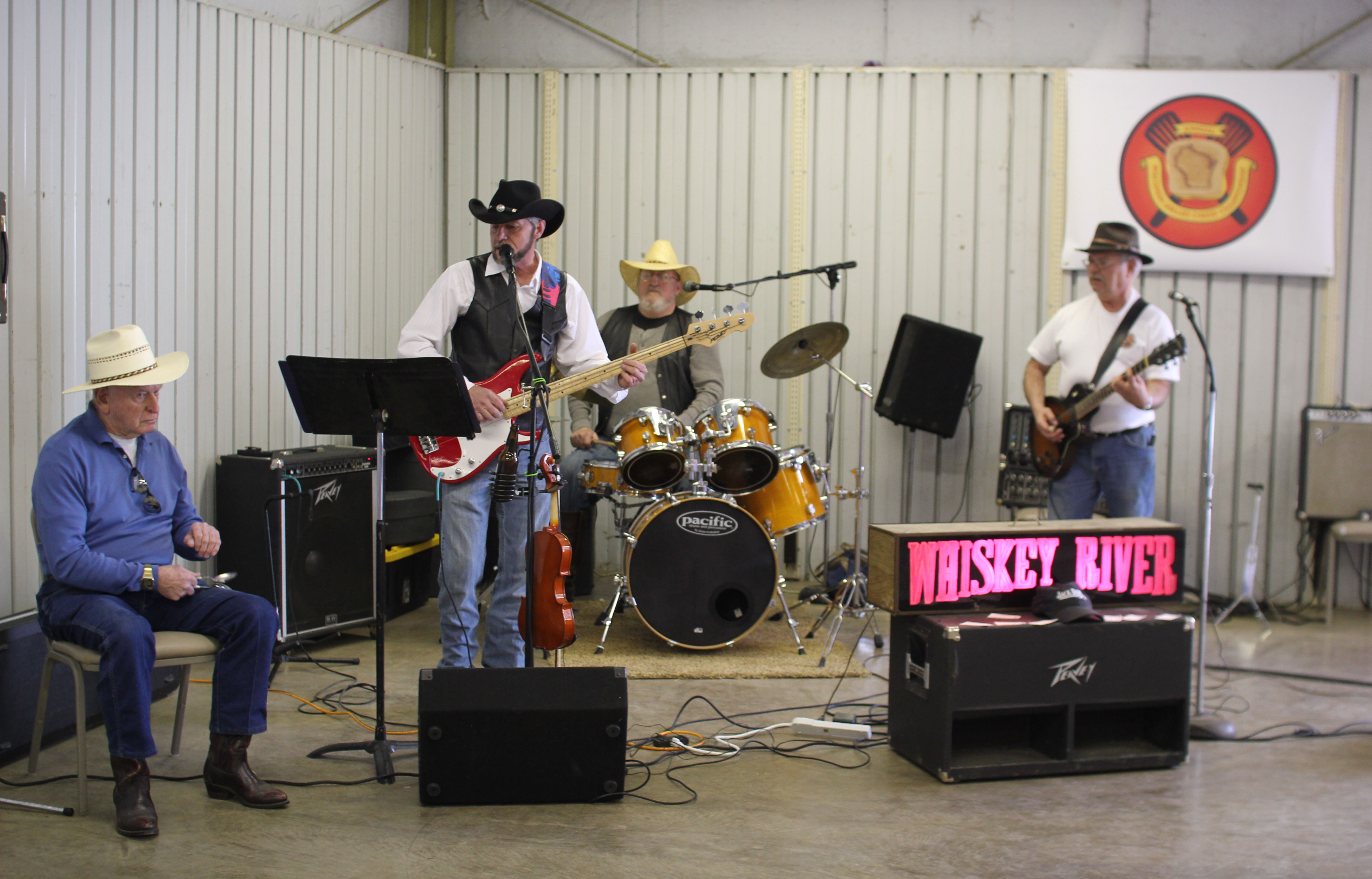 We tried a total of 7 different grilled cheese sandwiches, and two soups.
Mary found a build your own truck that included Mobay, a cheese made with a layer of goat's milk cheese, and a layer of sheep's milk cheese, separated by a layer of grape vine ash. (I LOVE ASH IN CHEESE.)
There was another with cooked apples, praline pecans, and fontina cheese on brioche.
It could have used more cheese, but it was the most flavorful of the choices we were given.
The "disappointment"(how much actual disappoint could there be with seven different grilled cheese sandwiches?) was simply that you could not try the sandos in competition.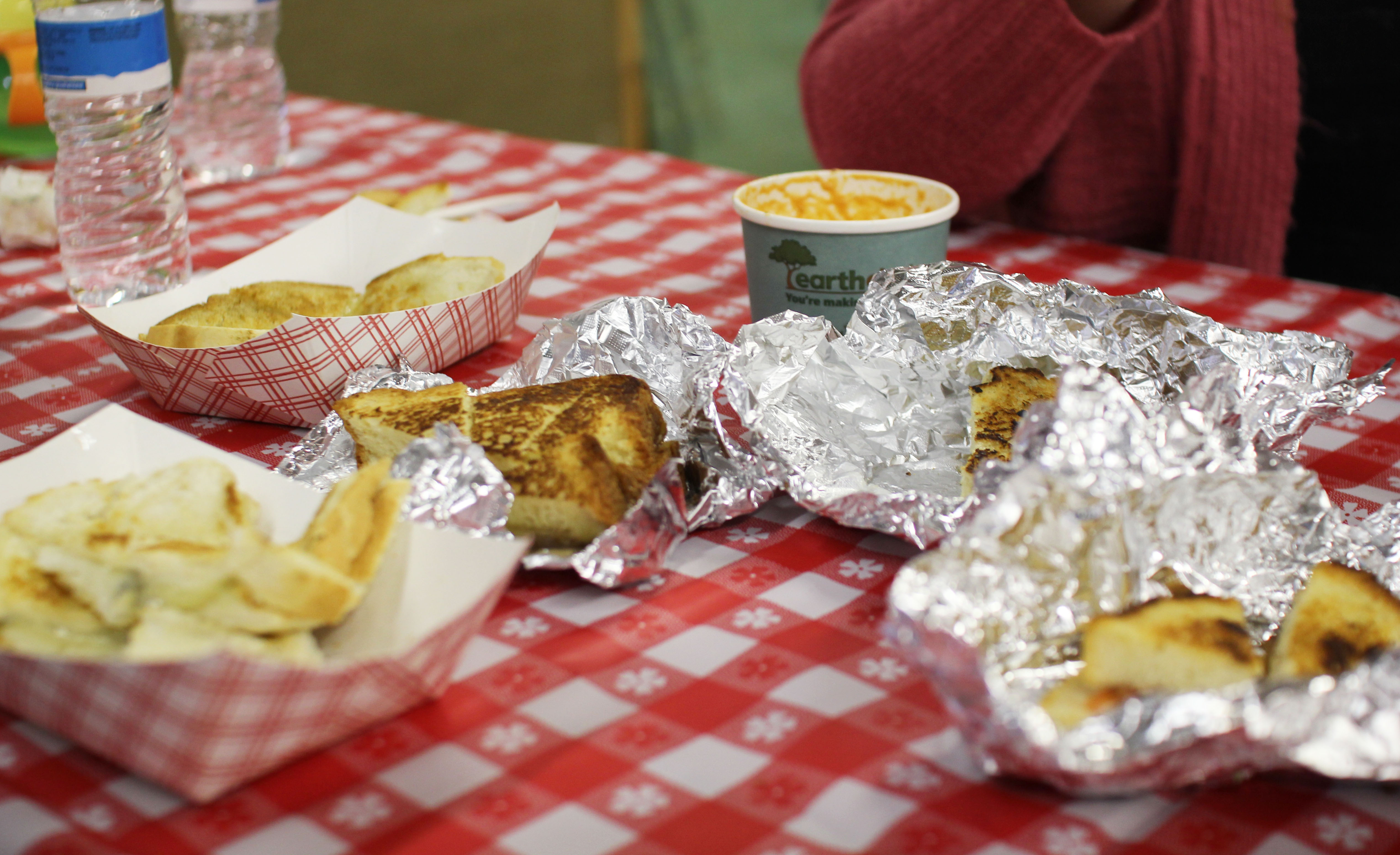 There were a bunch of different vendors scattered around the fair grounds that sold different grilled cheeses, but none of them were the winners from previous years.. And none of them were that outstanding.
As a matter of fact, this one right here tasted like garbage.
(on the right)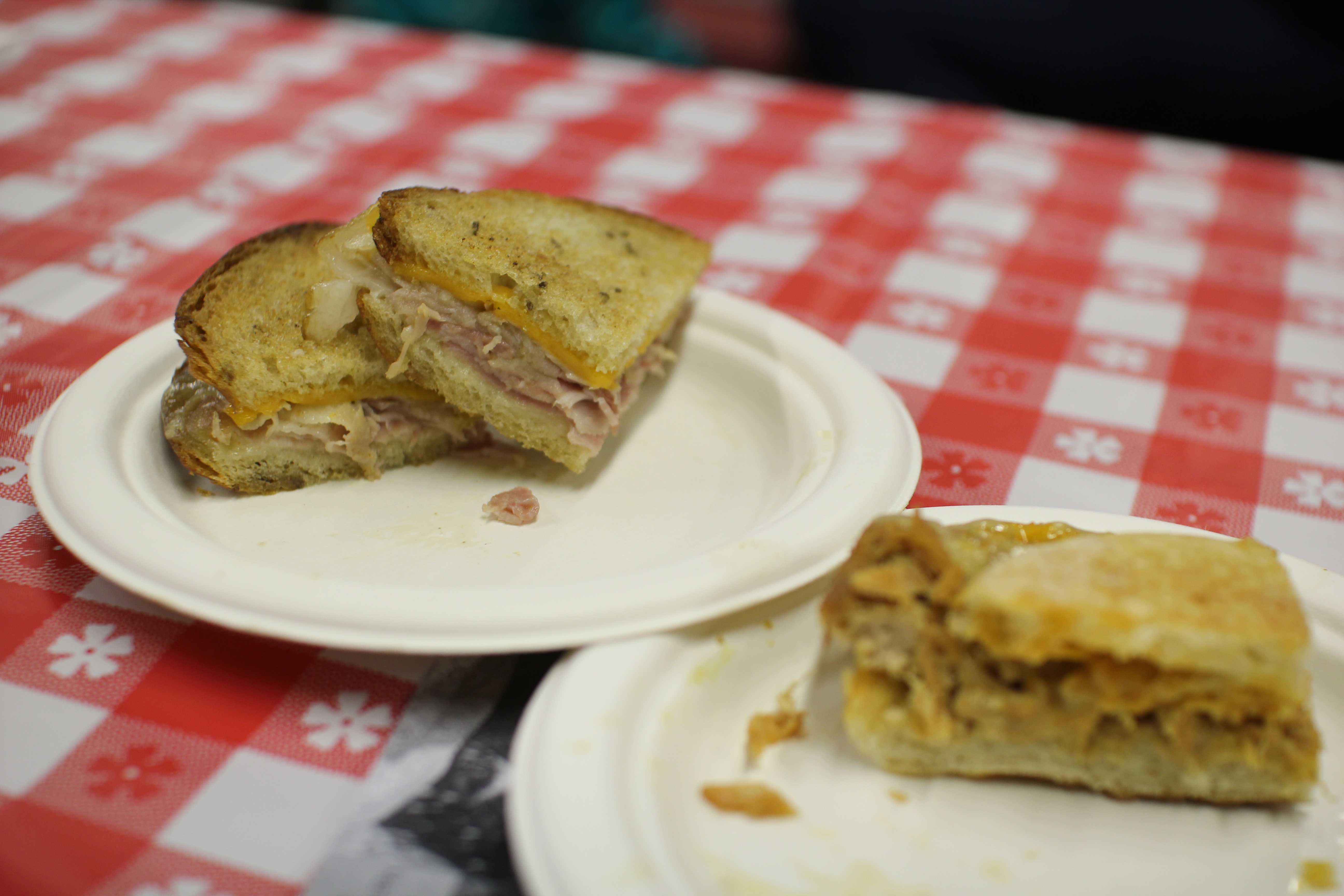 There was cheese, and pulled pork. Both good.
But there was also shitty mustard, and a "chili aioli"..
Baaaaaasically Tobasco sauce in mayonnaise.
I almost want to say it was Miracle Whip.
Tragic.
The competition was held behind a ribbon.
And I couldn't at all hear what the announcer was saying.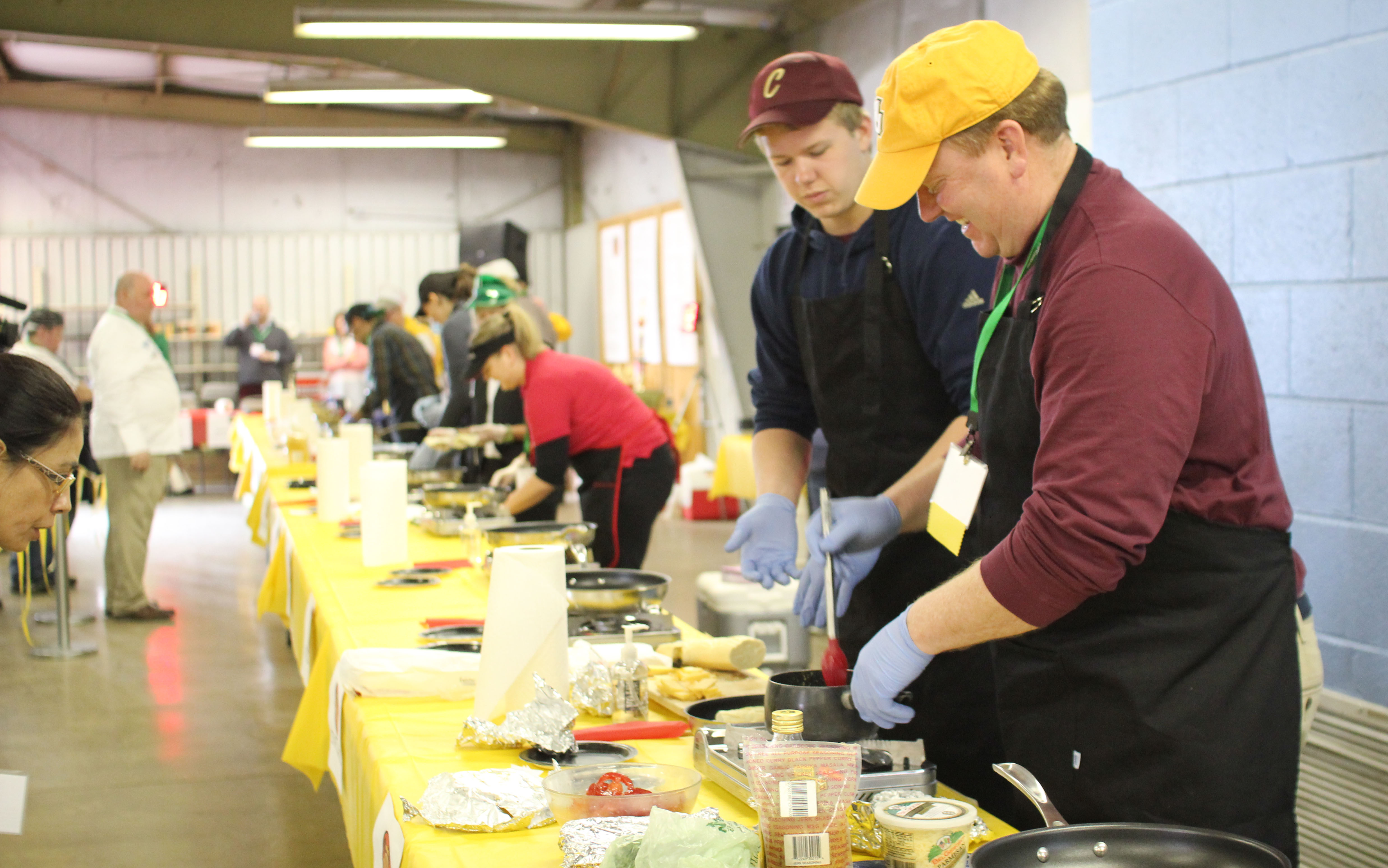 Here are some sandwiches we couldn't eat.
I am dismayed with the parmesan crisps haphazardly stabbed into that particular sandwich.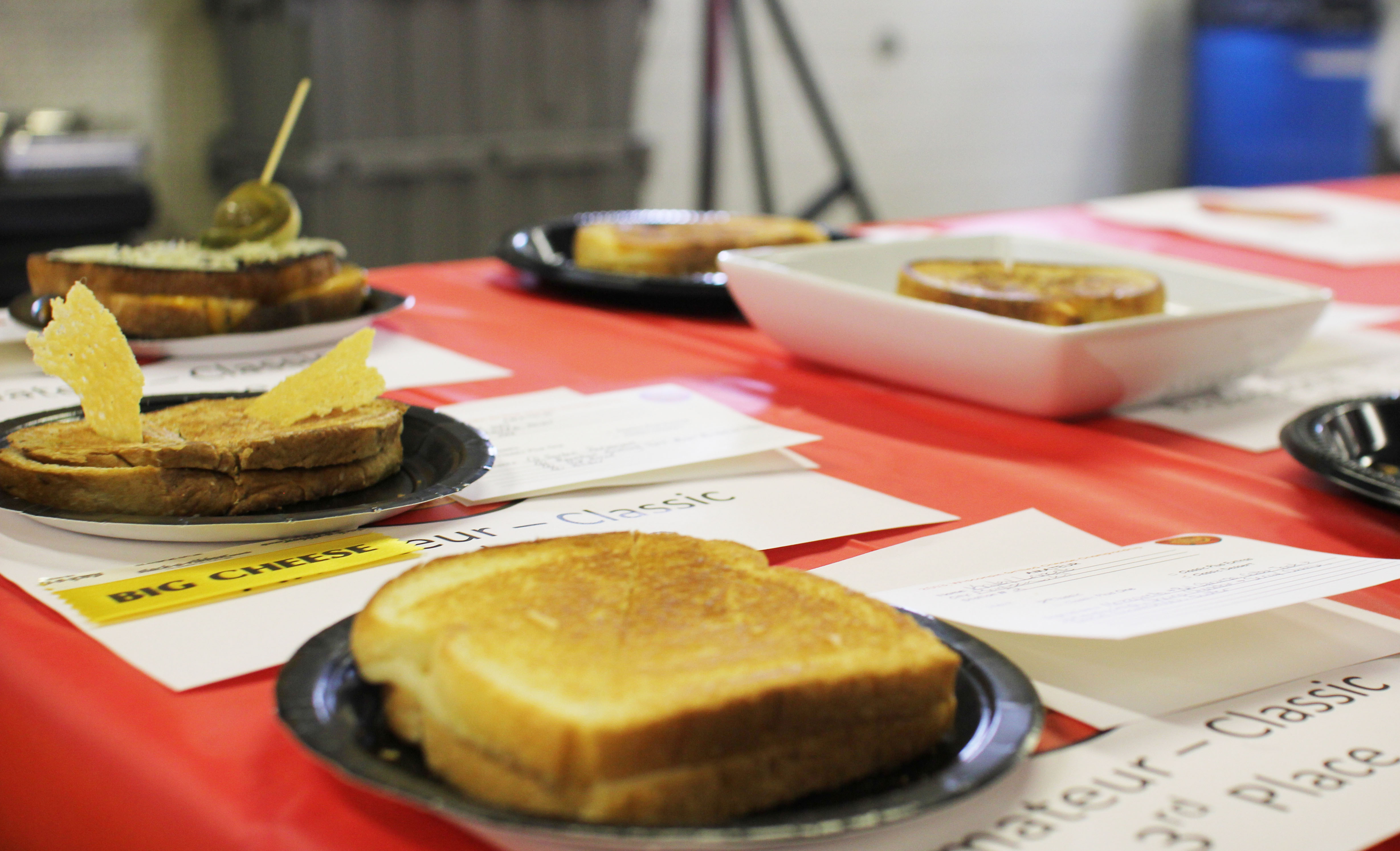 One of the booths there gave me a recipe book of grilled cheese winners.
WHERE THE FUCK WERE THESE GRILLED CHEESE SANDOS FOR MAH MOUTH?

Seriously, I had a great time. And I tried a new cheese!
What more could a girl want?